'During the War...'
Available Throughout Scotland: March - December 2019
'During the War...' is an entertaining and informative peek at life in Britain during World War 2 and is the perfect accompaniment to any Second World War Topic. Pupils will follow in the lives of a 1940s family, sharing in the ups and downs of life during wartime Britain. Using music and drama the production will enhance the pupils understanding of issues such as The Blitz, blackouts, rationing, and evacuation. Although informative, the production is also highly entertaining and features songs and comedy from the era.
a perfect accompaniment to any World War II Project
encourages an understanding of our modern history and the way in which people were forced to live
makes history relevant, accessible and enjoyable
Comes complete with teachers' pack comprising of before and after lesson plans (optional)
Show CD sent in advance of the production giving pupils an opportunity to familiarise themselves with songs from the era.
Testimonials
Can I just thank the team who visited the school to perform "During the War" at Norden Community Primary School. We recently went on a trip to Bury Railway station for an evacuee experience and their staff commented on how knowledgeable our children were. The experience of your play certainly contributed to t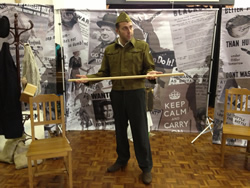 his. I will make a note of your future availabilities and will recommend your company to other teachers for next year.
Thanks once again!
C. Smallwood - Norden Community Primary School
"Excellent as per usual with the Take Away Theatre Co. The children loved the production which was performed brilliantly. Both the quality and cost of the performances we have had recently have been the deciding factor in having you back".
Ken O'Hara – Depute Head of Dalmilling Primary School in Ayr
Booking Details
During the War... is available to book now!
BOOK NOW by calling 0800 158 38 40 or click here to make an online enquiry.